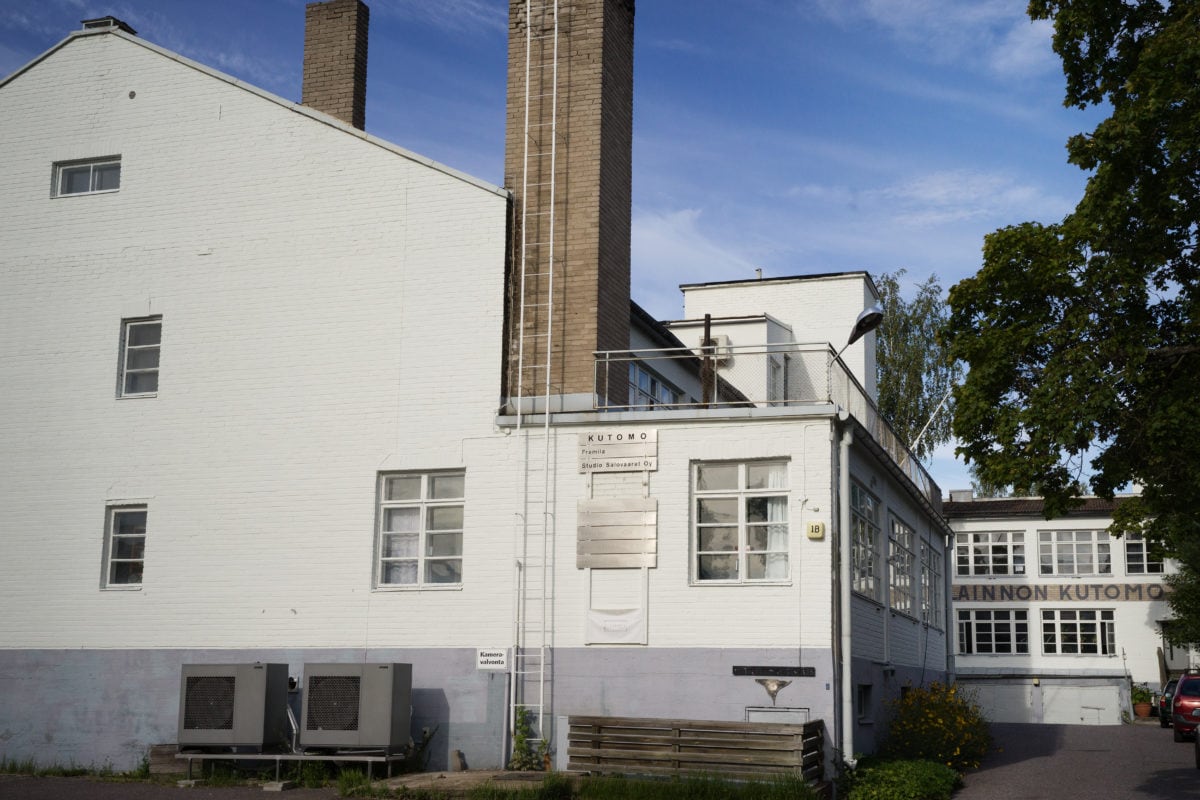 Sijainti ja saavutettavuus
Nykytaidetila Kutomo sijaitsee Lainnon vanhassa kutomorakennuksessa Linnanfältin asuinalueen kupeessa, osoitteessa Kalastajankatu 1 B. Kutomon läheisiä maamerkkejä ovat Turun linna, Kakolanmäki, Turku Energian savupiippu Fibonaccin lukuineen ja Turun Taideakatemia. Nykytaidetila Kutomo sijaitsee valkoisen kutomorakennuksen sisäpihalla kiinteistön ensimmäisessä kerroksessa.
Nykytaidetila Kutomo on kävely- ja pyöräilymatkan päässä Turun keskustasta ja paikalle on hyvät joukkoliikenneyhteydet. Joen puolelta saavuttaessa bussilinja numero 1 Kauppatorilta Satamaan pysähtyy Sähkölaitoksen pysäkillä, josta on noin 350 metrin kävelymatka Kalastajankadulle. Port Arthurin puolelta saavuttaessa bussilinja numero 12 pysähtyy Annankadun pysäkillä, josta on noin 600 metrin kävelymatka Puutarhakatua pitkin Kalastajankadulle. Kutomon pihassa on runsaasti ilmaista pysäköintitilaa.
Vanha kutomorakennus ei ole esteetön. Studioiden ulko-oville johtaa portaat, joiden yhteydessä ei ole hissiä. Nykytaidetila Kutomon wc-tilat eivät ole saavutettavissa pyörätuolilla.
Location and accessibility
Contemporary Art Space Kutomo is located in the old Lainto weaving building next to the Linnanfält neighborhood. The address is Kalastajankatu 1 B. Landmarks local to Kutomo include the Turku Castle, Kakolanmäki Hill, Turku Energy's smokestack with its Fibonacci numbers, and the Turku Arts Academy. Contemporary Art Space Kutomo is located in the white weaving building's courtyard, on the first floor.
Kutomo can easily be reached from Turku city center on foot or by bicycle, or by public transport. When arriving from the riverside, the bus service no. 1 from Turku's main market square to the harbor stops at the electrical power station stop (Sähkölaitos) from which there is a short 350-meter walk. When arriving from the side of Port Arthur, bus service no. 12 has a stop at Annankatu, a 600-meter walk away from the venue, along Puutarhakatu. There is plenty of free parking available outside Kutomo.
The old weaving building is unfortunately not accessible to wheelchair users. The entrances to the studios are up a flight of stairs, with no elevator. The bathrooms in Contemporary Art Space Kutomo are not wheelchair accessible.